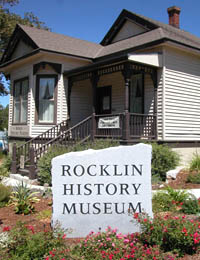 Rocklin
Rocklin is a city in Placer County, California located in the metropolitan area of Sacramento. It shares borders with Roseville, Loomis, and Lincoln. As of the 2010 census, the city's population was 56,974.
Rocklin is a wonderful place where people can raise a family because of quality schools, abundant recreational opportunities, and the highest commitment to public safety.
The City's strongest assets are its residents, and citizen input and participation set Rocklin apart. We are proud of Rocklin's rich heritage and excited about its future. Thanks to residents, businesses and community leaders working together, we can ensure a bright future.
Welcome to the City of Rocklin. Located in South Placer County, Rocklin is characterized by rolling hill terrain with 360-degree panoramic views of the Sierra Nevada mountains to the northeast and to the Sutter-Butte mountain range in the West.
Information from http://www.rocklin.ca.us/about/default.asp